The world of lipsticks is a vibrant spectrum of hues, finishes, and textures. Among the many options, matte and satin lipsticks reign supreme, each boasting its own allure and charm. But which one truly deserves the spotlight on your pout? Let's dive into the matte versus satin showdown to uncover the secret behind the perfect lip look.
Matte Magic:
Matte lipsticks have long been revered for their boldness and intensity. Picture-perfect in their velvety finish, these lipsticks offer a rich, flat color that delivers an instant statement. The matte effect is all about drama without the shine. It effortlessly elevates any look, lending an air of sophistication and confidence.
KIMIEYE 12Pcs Velvet Matte Liquid Lipstick Set
What sets matte lipsticks apart is their staying power. Once applied, they tend to cling to your lips, promising hours of wear without frequent touch-ups. Whether you're conquering a busy day or dancing the night away, matte lipsticks are the loyal companion that stays put.
However, it's crucial to consider the trade-off. Matte formulas can sometimes be drying, emphasizing lip lines and causing discomfort. But fear not! With proper lip care and hydration, these minor inconveniences can be mitigated, ensuring a flawless matte finish without compromise.
Satin Sensation:
On the other side of the spectrum lies the satin lipstick, the epitome of elegance with a hint of sheen. Satin lipsticks strike the perfect balance between moisture and color payoff, offering a lustrous finish that's softer than matte yet richer than gloss.
The magic of satin lies in its versatility. It glides on smoothly, imparting a silky texture that feels luxurious on your lips. Unlike matte lipsticks, satins don't emphasize dryness, making them an ideal choice for those seeking comfort without compromising on style.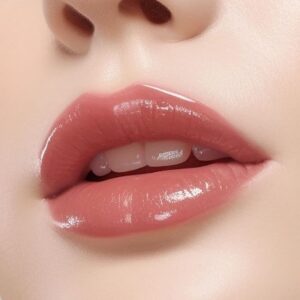 READY TO SHINE Matte Vegan Creamy Satin Lipstick
Moreover, satin lipsticks are forgiving. They effortlessly conceal minor imperfections on your lips, providing a more forgiving application process compared to matte lipsticks, making them a go-to choice for makeup novices and professionals alike.
However, satin lipsticks may require more frequent touch-ups due to their creamy texture and moderate staying power. Reapplication is a small price to pay for the dewy, fresh finish satin lipsticks offer.
The Verdict:
Choosing between matte and satin lipstick ultimately boils down to your personal style and preference. If you're drawn to high drama, long-lasting color, and a powerful statement, matte lipsticks are your best bet. Just remember to prep your lips with a good balm beforehand.
Conversely, if you crave a touch of sophistication with a comfortable, nourishing feel, satin lipsticks will be your beauty go-to. They effortlessly combine color, moisture, and a subtle sheen for a more relaxed yet polished look.
In the grand duel of matte versus satin, there's no right or wrong—only a world of beauty waiting for you to explore. Why not embrace both? Mix and match these lipstick wonders to curate your signature look, turning heads and stealing hearts with every smile.